Home > Technical Support > Molding Technology > Molding Technology for LAPEROS® LCP
Selection of Molding Machine
---
---
4. Selection of Molding Machine
LAPEROS® LCP is available for molding on any conventional screw-type molding machine.
Cylinder temperature for LAPEROS varies with grade type. However, as the cylinder temperature for LAPEROS in general can be set to a maximum of 380°C, there is no problem with heater capacity of conventional molding machines.
For the capacity of the plasticizing unit, the shot weight should be 50 to 75% of the capacity of the molding machine.
Nozzle heaters must be controlled by an independently built controller. If drooling or stringiness occurs, lowering nozzle temperature will be an effective measure. However, when nozzle temperature is set too low, filling pressure becomes extremely high due to lowering of flowability, and cold slugs getting into molded parts may cause blisters. In order to perform stable molding, it is recommended to use the LCP nozzle shown in Fig. 4-1. This nozzle prevents drooling and stringiness without excessively lowering nozzle temperature.
Because LAPEROS solidifies fast and releases from the mold easily, high-cycle molding is possible. In order to take advantage of such characteristics, a machine of high plasticizing capacity is suitable. Screws as described below are suitable in most cases.
Screws having a metering zone of a constant groove depth at the tip
Screws having a well-constructed check valve
Long feed-type screws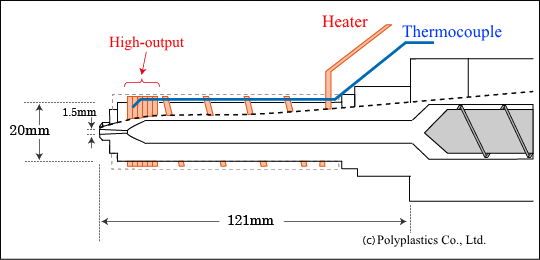 Fig. 4-1 LCP Nozzle
[ Small nozzle hole (1 to 2 mm), High-output heater at nozzle top, Thermocouple at the top ]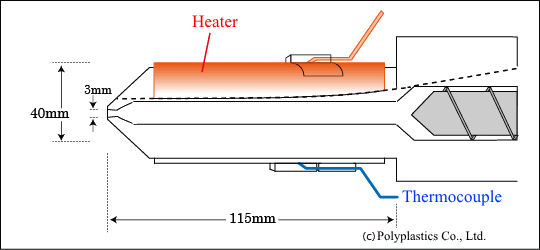 Fig. 4-2 Standard Nozzle
---