Home > Technical Support > Molding Technology > Molding Technology for DURACON(R) POM
Molding Conditions / Predrying
---
---
4. Molding Conditions
4.2 Predrying
Though DURACON® POM has a substantially low moisture absorption rate and the packaging bags are completely sealed, it is recommended to predry pellets before use. The allowable level for moisture absorption of molding pellets is usually 0.1% or less.
Predrying conditions
Standard: 80-90°C × 3-4 hours
When mold deposit may occur: 100-120°C × 3-4 hours
Notes
When the tray-type oven is used:
Pellet accumulation thickness should be limited to 25 mm or less.
When the hopper dryer is used:
Adjust the temperature and flow rate of hot air so that pellets are maintained at the recommended temperature.
Maintain the duration time in the hopper at 3-4 hours or more.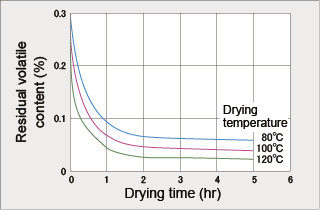 Fig. 4-1 Pellet drying curve
---
---