Home > Technical Support > Molding Technology > Molding Technology for DURANEX(R) PBT
Use of Regrind
---
4.3 Use of Regrind
The effect of recycling of DURANEX® PBT 3300 on their mechanical properties is shown in Table 4-8. As the recycling is repeated, severer drops of mechanical properties are found with glass fiber reinforced grades compared with unfilled grades.
The relation between the solution viscosity (the intrinsic viscosity) and the recycling frequency is shown for both filled and unfilled grades in Fig. 4-4: no significant change in solution viscosity due to recycling is found. On the other hand, glass fiber length decreases as the recycling is repeated, as seen in Table 4-8 and Fig. 4-5. This indicates that the changes in mechanical properties caused by recycling stem from the breakage of glass fibers and not from deterioration of the base polymer.
Table 4-8 Mechanical Properties vs. Recycling (Using 100% Regrind Material)
Grade
3300
Recycling frequency
0
1
2
3
4
5
Tensile strength retention rate (%)
100
86
81
75
70
68
Flexural strength retention rate (%)
100
94
86
85
81
79
Flexural modulus retention rate (%)
100
92
91
88
86
84
lmpact strength retention rate (%)
100
88
80
67
57
53
Glass fiber length* (mm)
0.38
0.30
0.29
0.27
0.28
0.21
* 0.52mm in virgin pellets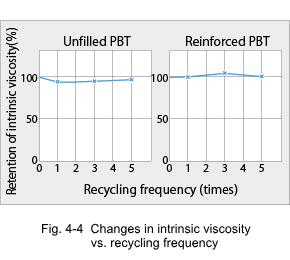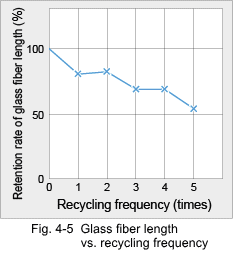 On the basis of the above result, the amount of regrind should be limited to 25% and 75% should be virgin pellets. As an example, Table 4-9 shows the mechanical properties of parts molded with a mixture of 75% virgin pellets and 25% once-used regrind. Very little change occurred.
When the use of regrind is limited to 25%, the probability percentage change in mechanical properties of repeatedly reused materials decreases very sharply as shown Table 4-10. Therefore, it is safe to conclude from a practical viewpoint that changes in mechanical properties caused by using regrind twice will cause no problem. It must be presupposed, however, that the molding conditions are kept under proper control to prevent adverse effects such as heat deterioration and hydrolysis in molding.
Table 4-9 Effect of Using Regrind 3300
Mechanical Properties

Composition
All virgin pellets
Virgin pellets 75%
Once-regrind 25%
Retention rate of tensile strength (%)
100
97
Retention rate of notched izod impact strength (%)
100
95
Retention rate of tensile impact strength (%)
100
97
Retention rate of heat deflection temp. at 1.82 MPa (%)
100
100
Table 4-10 Percentage of Repeatedly Reused Material When 25% of Regrind is Continuously Mixed with 75% of Virgin Pellets
Number of recycling
Virgin pellets
(%)
1st reuse
(%)
2nd reuse
(%)
3rd reuse
(%)
4th reuse
(%)
5th reuse
(%)
1
75
25
2
75
18.8
6.2
3
75
18.8
4.7
1.5
4
75
18.8
4.7
1.1
0.4
5
75
18.8
4.7
1.1
0.3
0.1
---