Home > Technical Support > Molding Technology > Molding Technology for DURANEX(R) PBT
Dimensional Tolerances
---
4.1 Dimensional Tolerances
The dimensional tolerances for DURANEX® 2000 and 2002 are illustrated in Fig. 4-1. With precision molding, the tolerances obtainable are ±0.3% for 25mm, ±0.2% for 50mm, and ± 0.13% for 125mm. Within this dimensional range, the tolerances for DURANEX are roughly same as those for DURACON® POM.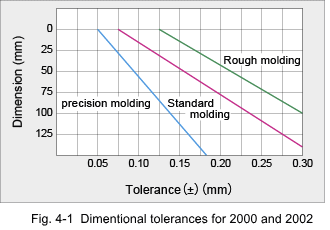 Dimensional scattering of DURANEX 3300 measured with 120×120×3mmt flat plates indicated following results:
Single day variation (3σ) : 0.038 - 0.059%
Day-to-day variation over a short period of time (3σ) : 0.12%
Similar test results with DURACON were 0.027 - 0.059% and 0.048 - 0.094% respectively. Therefore, the dimensional scattering of DURANEX 3300 is similar to or slightly larger than that of DURACON.
---