Home > Technical Support > Molding Technology > Molding Technology for DURANEX(R) PBT
Pre-drying
---
2.2 Pre-drying
DURANEX® PBT, being a thermoplastic polyester, is hydrolyzed when heated while containing moisture, resulting in brittle products. Therefore, sufficient pre-drying of the pellets is necessary. The effects of pre-drying time at 120°C on certain mechanical properties are shown in Fig. 2-1 and 2-2, which indicate that at least 5 hours of pre-drying is required at 120°C. The effect of pre-drying time on moisture content is shown in Fig. 2-3, which indicates that pre-drying at 120°C for 5 hours is equivalent to 140°C for 3 hours or 160°C for 2 hours. A high temperature such as 160°C will cause discoloration, while a low temperature of 100°C or lower will not lower the moisture content down to 0.02% or less which is the target of pre-drying.
Considering these facts, the recommended pre-drying condition:
120°C for 5 hours or longer
140°C for 3 hours or longer
ventilating dryers, and hopper dryers are useful but in any case, the drying conditions such as air temperature and flow rate must be adjusted so that the pellets will be dried uniformly under above-recommended condition. Especially when hopper dryers are used, make sure that no short paths are formed and the pellet temperature, not the preset temperature, reaches the required level.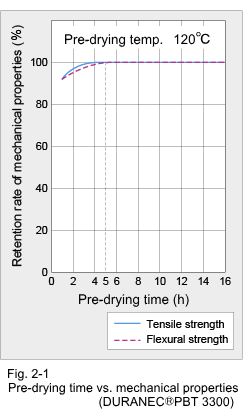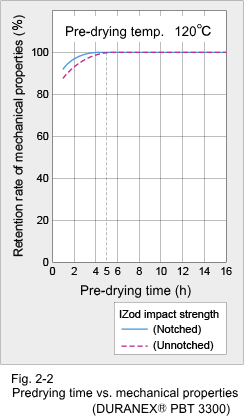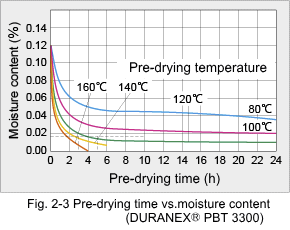 ---