Home > Products > TOPAS(R) COC
Buffer Material
Buffer Material Using TOPAS® Developed
Discrete buffer material using TOPAS® joint-developed with DICEL NOVAFOAM Co., Ltd., has been adopted. TOPAS® is excellent in fizziness and suitable as a buffer material. This material is discrete so as to be adopted for any shaped items.
Features of TOPAS® Buffer Material
For buffer materials, polystyrene-made (foamed polystyrene) and oval-shaped materials are widely used, however, polystyrene-made buffer materials are likely to be chipped, and generate powders. In addition, it has disadvantages such that the powders are charged with static electricity and adhere to products. Although, the developed buffer material is blended with TOPAS® in a polyetyrene base, it does not generate powder, and is subjected to antistatic treatment. In addition, by blending TOPAS®, rigidity increases and deformation of the buffer material is suppressed so that a buffer material suitable for packing of precision machines or heavy loads can be made. In comparison with conventional products, the loading ratio can be increased by 50%.
Further, since foaming is equalized by the TOPAS® features, the foaming ratio increases by approximately 50% in comparison with conventional products and the weight is reduced. This leads to resource savings and environmental-friendliness.
As for the shape, the current shape is formed as a result of a reduction in the cross section area and consideration of cushioning properties. Buffer materials using TOPAS® are also suitable for packing of precision parts of electric or electronic machines and diversified parts in small quantities.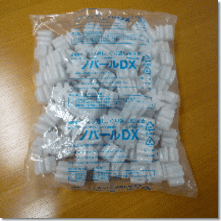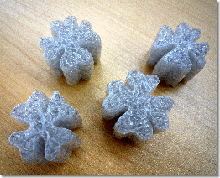 For more details, please contact your Polyplastics representative or use inquiry page "Contact Us".