Home > Products > DURAFIDE(R) PPS
Introducing a DURAFIDE(R) PPS Low Chlorine Grade
Introducing a DURAFIDE® PPS Low Chlorine Grade
1. Introduction
Polyphenylene sulfide (PPS) is a crystalline engineering plastic possessing a molecular structure of benzene rings linked with sulfur atoms. The melting point of PPS is 280-290℃ and it can be utilized continuously at a temperature of 200-240℃. This outstanding heat resistance classifies the resin as an advanced engineering thermoplastic (ETP). PPS also exhibits excellent mechanical properties and dimensional precision, while the resin itself exhibits flame retardance. In addition, there are no organic solvents that can dissolve PPS at a temperature of lower than 200℃. The resin has chemical resistance on a par with fluororesins.
The main traditional applications of PPS are in the electrical and electronics sector, including connectors, switches and motor insulators, but in recent years, instances of usage in the automotive sector have been growing. This is thought to be on account of lightweighting through metal replacement, improved design freedom through use of injection molding, overall cost reduction effects, and furthermore the high reliability of PPS as evidenced by its extensive track record to date.
Examples of applications in automobile component include sensor housings, ECU cases, power module components and electric water pumps. The resin is also widely used in water mixing faucets and electromagnetic valves in hot water supply systems due to its excellent hot water resistance.
The low chlorine DURAFIDE® PPS grade introduced here is based on an innovative polymer manufacturing process and compounding technology. The line-up includes grades tailored for various applications. The series is one of several low halogen product families that can respond to low halogen needs in the market (less than 900 ppm contained in product) that includes LAPEROS® LCP resins and DURANEX® PBT NF Series resins.
2. Background of low chlorine PPS development
PPS resin can satisfy the UL94V-0 standard without the need for using a flame retardant. For this reason, it has traditionally been adopted in numerous electronic components such as connectors and switches. Among these, DURAFIDE PPS products contain low levels of ionic metal contaminants and these materials are used in applications with demanding electrical property requirements and in semiconductor jig applications.
Nowadays, moves to avoid materials containing halogenated flame retardants for use in IT devices such as smartphones and personal computers are gaining traction centered on the efforts of Western manufacturers and many cases are emerging where grades of PPS containing low levels of chlorine are sought.
Conventionally, PPS is synthesized using the process shown in Figure 1. Para-dichlorobenzene is used as a feedstock and this normally results in 500-5,000 ppm of chlorine remaining in the final product in the forms of residual chlorine at the polymer chain ends and byproduct sodium chloride. As long as the process in Figure 1 is used to manufacture PPS, one can predict that productivity would decline if attempts were made to drastically reduce the level of chlorine in the PPS and costs would also increase dramatically through the addition of process steps. Consequently, the consensus is that it would be very difficult to achieve a chlorine level of less than 900 ppm that would satisfy market needs.
Our company has been working to improve polymerization technology based on the linear polymer manufacturing process together with our neat PPS polymer manufacturer Kureha Corp. in order to respond to customer calls for low halogen products. Furthermore, our in-house compounding technology capabilities have been merged in order to develop low chlorine grades featuring significantly lower product chlorine content. We started off with a standard grade, 40% glass fiber-reinforced DURAFIDE 1140A66, and subsequently augmented this with additional grades for various applications. Besides possessing chlorine concentrations of less than 900 ppm, these low chlorine grade exhibit mechanical properties and chemical resistance that are on a par with conventional grades.
In the following we introduce the features of the various low chlorine grades.

Figure 1 : PPS polymerization reaction
3. Standard grade, high flow grade
DURAFIDE 1140A66 is the standard low chlorine grade with glass fiber content of 40%. Its defining feature is a chlorine concentration of less than 900 ppm in the product but the grade also exhibits more than sufficient mechanical properties (Table 1).
Table 1 : Properties of DURAFIDE® 1140A66 and 1140V1
Grade
1140A66
1140V1
Feature/s
Low chlorine
Low chlorine, high flow
Application
Connectors, general
Connectors

[Property]

[Unit]

Density

g/cm3

1.66

1.68

Melt viscosity (310℃, 1000/s)

Pa • s

260

(120)1)

Tensile strength

MPa

185

130

Tensile strain at break

%

1.7

1.2

Flexural strength

MPa

260

210

Flexural modulus

MPa

13,200

14,300

Sharpy impact strength

kJ/m2

9

10

Flammability

UL-94

V-0

V-0

Chlorine content

ppm

≦900

≦700
※ The above values are typical measured values and not guaranteed values.
※ Chlorine content was measured using our company's internal method.
1) Melt viscosity measured at 340℃
In addition, DURAFIDE 1140V1 (40% glass fiber content) is a low chlorine polymer featuring enhanced flowability that exhibits excellent thin wall flow properties (Figure 2). Both of these grades, 1140A66 and 1140V1, have built up impressive track records primarily in connector applications.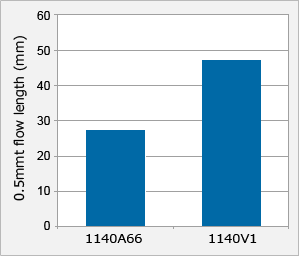 Figure 2 : Flow length measurement
(thickness: 0.5 mm; injection pressure; 100 MPa)
※ Cylinder temperature: 1140A66 (320℃), 1140V1 (340℃)
4. Conclusion
Around 2007, a move to avoid the usage of materials containing large amounts of halogens in IT devices such as personal computers and mobile phones started to gather steam, particularly at Western manufacturers. This need for low halogen materials followed suit for smartphones and tablets whose sales volumes have increased by leaps and bounds in recent years and the trend is forecast to continue in the future.
Polyplastics offers DURAFIDE low chlorine PPS series introduced here as a solution along with the low halogen product families LAPEROS and DURANEX NF. We intend to actively develop and augment our low halogen grade line-up in order to be in a position to offer materials and grades that are optimized for market requirements and individual applications. We ask that you evaluate these materials on an application basis and continue to utilize our materials moving forward.