Home > Products > DURACON(R) / TEPCON(R) POM
Introducing polyacetal (POM) DURACON(R) POM H140DR with improved diesel fuel resistance
Introducing polyacetal (POM)
DURACON® POM H140DR with improved diesel fuel resistance
1. Introduction
Polyacetal resin (our DURACON® line of products) has been used in many different car parts to help reduce weight and increase performance thanks to its superior mechanical properties, heat and fuel resistance, and excellent molding processability. This includes fuel system components, as polyacetal resin is used in many components surrounding the fuel tank, so Polyplastics focused on developing products with this type of resin. Our previous report "Market development and new grades of DURACON® POM for automotive fuel system components" has more details.
While drive systems will likely shift toward electrification, we hear that diesel engines are sure to remain in use for a certain proportion of commercial vehicles. For that reason, there will still be demand for materials with better resistance to diesel fuel. Low-quality diesel fuel contains a high concentration of acid and sulfur which have a negative effect on POM, but this type of fuel will certainly continue to exist in global markets. For this type of fuel, for better resistance to harsh environments outside the fuel tank (acid rain, acidic cleaning liquids, etc.), and also to deliver better molding properties, Polyplastics has developed grade H140DR, which can be deployed in markets worldwide.
2. Development concept
For POM applications in diesel fuel system components, we need a POM material that is resistant to many different types of fuels yet still has the beneficial properties that characterize POM. Taking that into consideration, we bolstered the fuel and acid resistance of DURACON while still maintaining its basic properties (mechanical properties, durability, weldability, etc.) which are needed in fuel system components.
• Excellent diesel fuel resistance
• Good molding properties (high flow)
• Design flexibility (high degree of crystallization: high strength/high rigidity)
Figure 1 shows our observation of the crystalline structures in the newly developed grade H140DR and in the standard grade M90-44. H140DR is denser, with smaller crystal size, which shows that it has a high degree of crystallization.
DURACON® POM H140DR

DURACON® POM M90-44

Figure 1 : Crystal structure comparison
3. General physical properties of DURACON® POM H140DR
Table 1 compared the general physical properties of H140DR with an improved diesel fuel resistance grade of a competitor, and Polyplastics standard grade M90-44.
Table 1 : Physical Properties
Property

Evaluation method

H140DR

Similar POM material of
a competitor

M90-44

POM material with improved diesel fuel resistance

POM material with improved diesel fuel resistance

Standard POM material

Melt mass flow rate (MFR) (g/10 min)

ISO 1133

14

13

9

Tensile strength (MPa)

ISO 527-1,2

65

62

62

Nominal strain at tensile fracture (%)

32

30

35

Tensile modulus (MPa)

2,800

2,850

2,700

Charpy impact strength (kJ/m2)

ISO 179 1eA

7

7.5

6
H140DR has a higher MFR value than our standard grade M90-44. This is for good formability and is the same value as grade H140-54C, which we previously released. It also has at least the same mechanical properties as the similar material of our competitor.
4. Diesel fuel resistance
Fuels that contain a high concentration of elements such as sulfur act on the main chain of POM resin and facilitate a decomposition reaction in POM. Figure 2 shows percentage of weight change (rate of decomposition) when POM material is immersed at high temperature in a diesel test fuel with a high concentration of sulfur (Haltermann CEC-RF-90-A-92: sulfur concentration approx. 3,000 ppm, typical JIS#2 in Japan is 10 ppm or less). We see that H140DR has superior resistance compared to the competitor's improved diesel fuel resistance POM material and compared to standard POM material.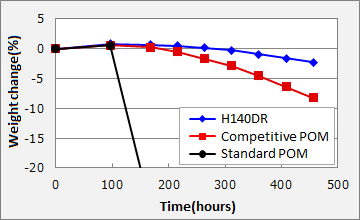 Figure 2 : Fuel immersion test
(110℃, standard diesel fuel JIS#2 light oil, ISO-Type 1A 4 mmt test bar)
As reference data, Figure 3 shows the results of an endurance test in standard diesel fuel (JIS#2 light oil), while Figure 4 shows the results in biodiesel fuel (B30) which is expected to become more common in the future. Neither of these environments are harsh for POM, but H140DR shows the same superior resistance as standard POM.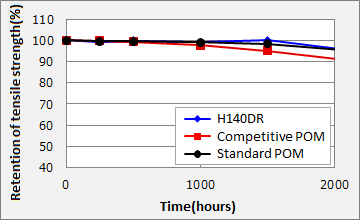 Figure 3 : Fuel immersion test
(110℃, standard diesel fuel JIS#2 light oil, ISO-Type 1A 4 mmt test bar)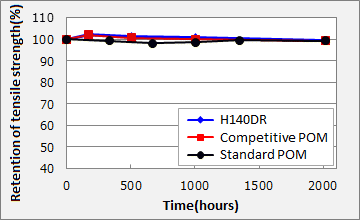 Figure 4 : Fuel immersion test
(80℃, biodiesel fuel B30, ISO-Type 1A 4 mmt test bar)
5. Other resistance
In Figure 5 we show the creep-fracture properties of H140DR. It has the same level of creep-fracture properties as the similar material from a competitor and appears to have enough long-term mechanical resistance properties as well.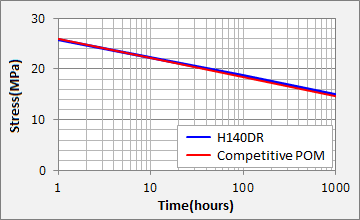 Figure 5 : Fuel immersion test
(80℃, in air, ISO-Type 1A 4 mmt test bar)
Figure 6 shows the results of environmental stress fracture testing with highly acidic solvent used in cars. H140DR produces extremely good results compared to those of the similar material from a competitor and compared to standard POM. This shows that it has high resistance to external factors such as acid rain and the various acidic solvents used in cars.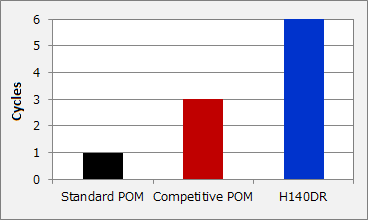 Figure 6 : Environmental stress fracture testing in highly acidic environments
(One cycle: Left in temperatures between room temperature
and 60℃ for 24 hours after spraying with acidic solvent, strain 1.5%)
6. Conclusion
This concludes our explanation of the properties of new DURACON grade H140DR with improved diesel fuel resistance. We can see that this grade offers improved resistance to fuel and acidity while maintaining the good points of conventional POM. We believe it can handle all kinds of fuel types, variations in production quality according to manufacturer and geographical area, fuel deterioration in harsh environments, and many other types of conditions. Going forward, we intend to widely promote its use in fuel system components.